OldCity.com
St. Augustine businesses seeking to improve their exposure to tourists and residents to the Oldest City need to look no further than OldCity.com. Northeast Florida's most popular web portal attracts 50-60,000 web visitors a month, all of whom are specifically searching for information about where to stay, what to do and community information in St. Augustine.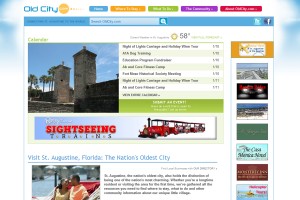 With the new design of OldCity.com launched January 2012, the site has become even more popular with visitors and advertisers alike. New advertising options including video ads and downloadable discounts are giving advertisers new opportunities to reach potential clients while the "submit event" form had enhanced the level on interaction on the site for visitors. Starting with their January statistics reports, advertisers are also going to see new data that shows not only how many people clicked on their ads but how many people actually saw their ads.
Why advertise online?
Online ads provide one click access from the source to your website in a blink while print ads require customers to remember your name and website address the next time they log on to the computer.
With our monthly hit reports you can see for yourself exactly how many people have viewed your advertisement and how many people have clicked on it. If you have multiple ads on OldCity.com, you can compare them to see which gets you more bang for your buck!
Why OldCity.com?
More and more people search for services on the web through search engines like Google, Yahoo! and Bing instead of using the phone book. OldCity.com is fully optimized to get high rankings for some key words, but don't take our word for it—Google it! Here are some of our rankings on the web's most popular search engine, Google (as of 1/27/12):
St. Augustine Accommodations —

#1 & #2 out of 592,000 results

St. Augustine Events —

#1 & #2 out of 17,100,000 results

St. Augustine Sightseeing —

#1 & #2 out of 428,000 results

St. Augustine Beaches —

#1 & #2 our of 2,310,000 results

Oldest City —

#1 out of 19,900,000 results

St. Augustine — #2 out of 26,100,000 results
St. Augustine, FL — #2 out of 5,990,000 results
Saint Augustine — #2 out of 16,700,000 results
St. Augustine Attractions — #2 & #3 out of 4,160,000 results
St. Augustine Things to Do — #2 out of 3,480,000 results
St. Augustine Weddings — #2 out of 1,050,000 results
St. Augustine Dining — #3 out of 3,110,000 results
The key difference between OldCity.com and other online advertising options is that visitors come to OldCity.com specially seeking information about what to do, where to go and where to stay in St. Augustine. Other sites, like online newspapers for example, attract people who want to read their articles and find advertisements distracting. But at OldCity.com your advertisement is viewed as valuable information on a local business instead of an unwanted intrusion.
Multiple advertising options are available to fit your needs and budget.
OldCity.com offers ads starting at $25 per month. From a basic listing with a link to your site to a super expanded listing with multiple photos or video, we can give your business exposure no matter what your budget might be. You can read more about the advertising options on OldCity.com or give us a call and we can go over them with you.
Why not start now?
Fill out the form below, call us (904-829-2772) or e-mail us (advertising@oldcity.com) today for more information on how you can start promoting your business on OldCity.com.