Nation-wide we are becoming more enlightened and responsible in caring for our environment – recycling is a staple in every household and business. America has taken strides to be Eco-friendly and in the past few years, electronic recycling and paper shredding has moved to the forefront of our minds!
Aaron Enos, Veteran and hero, is here to save the day, fighting for our community safety just as he fought to protect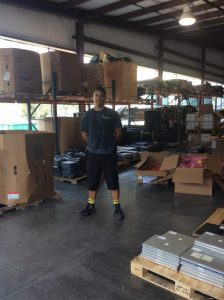 America. Aaron invited OCWS to his warehouse where his large electronic recycling company is, Sensible Recycling! He has been part of the scrap metal community for years, and it is clear to me that knows the procedures like the back of his hand. Get this, his service is free!
Sensible Recycling accepts most office and home electronics; computers, laptops, printers, flat screen TV's/monitors, stereos, circuit boards and more! Once they bring your electronics to the warehouse a delicate procedure takes place that ensures your electronics are no longer item bearing. The equipment is not refurbished with Aaron and is totally cleansed. The company is interested in providing optimal destruction of hard-drives and the best means of recycling your electronics! In a few months Aaron plans to begin on-site recycling. He will travel to your business or home, with a machine allowing you to watch as your motherboards and peripheral items are destroyed! Neat, right? Did I mention they do this for free?!
Shredding Documents Securely
Shredding important client/employee/business data is crucial because they trust that you are taking the necessary steps to ensure the information is safely destroyed! Many large corporations have protocols in place for this reason exactly! According to Shred-It, small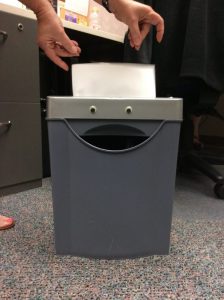 businesses have fallen behind in this department. It is necessary to securely destroy your documents if you expect to maintain trust within your community. Kill two birds with one stone.
Shred-it is a large shredding corporation with a local center in Jacksonville. They are a well-known company that provide affordable services. They perform basic paper shredding and some electronic shredding. Sensitive information comes in many forms; CD-ROMs, USB drives, uniforms, prescription bottles, badges/nametags, x-rays, and of course licenses and credit cards. This prompts Shred-It to offer media destruction and specialty shredding! After using their services, they send you a Certificate of Destruction, which ensures you are no longer at risk and that your business is compliant with privacy laws.
What is interesting is that many businesses have computer software installed to protect their clients/employees/company from world-wide hackers! Yet we are allowing the threat in our backyard to progress! Keep in mind that one of the most common ways your sensitive information can be stolen is through dumpster diving. It takes one document or hard-drive to produce valuable information in the wrong hands. Protect your community! Recycling documents and electronics is as important as locking your doors.
Businesses Beware: Electronic Destruction
Many businesses provide recycling for old electronics in the St. Augustine-Jacksonville area; however not researching these companies well-enough will cost you twice as much.
Businesses/residents that pay for companies to recycle electronics, can not always guarantee your information will be completely erased.
Even in the Northeast Florida area, companies have been called out for misusing certifications. These certifications are in place to guarantee a safe and productive memory cleaning, but many of them have no teeth.
One certification that is losing the communities trust is R2: which is in place to oversee brokers, where a company sends their material, and how they process it. There have been instances in our community where a company claims to be R2 certified, but are not. The misunderstanding is brought to the attention of the committee, and no steps are taken to resolve the issue.
NADE is an association which oversees businesses that work with paper, electronic, and data shredding. Some companies may claim to be NADE certified, but are only members of NADE, meaning that NADE does not over-see their process.
Old City Web Services suggests:
Sensible Recycling – For Electronics
Ph: (904) 327-3426
Email: aaron@sensiblerecycling.com
Address: 5530 Florida Mining Blvd. S.,
Jacksonville, FL 32257
Website: www.sensiblerecycling.com
Shred-It – For Paper/Specialty
Ph: (904) 288-8555
Address: 11606 Columbia Park Dr E
Jacksonville, FL 32258
Website: www.shredit.com