It's no doubt that we have a talented team here at Old City Web Services, but one of our favorite things about each person on staff is that they all have passions and talents that make them awesome individuals. We're a family here, and when one of our family members achieves accomplishments, we want to tell the world how proud we are of them!
This blog features our President and CEO, Cecile Browning Nusbaum, the backbone of Old City Web Services, Inc. A St. Augustine native, Cecile is extremely passionate about St. Augustine and does everything she can to support our community. When she's not in the office, Cecile enjoys spending time outside, taking part in community events, working with youth and traveling. Her latest travel adventure, this past June, was a mission trip with church youth to Whitewater Express, a camp in Copperhill, Tennessee.
We asked Cecile a few questions about her latest adventure:
Who went?
I went with the Trinity Episcopal Parish Youth Group. There was a total of 18 of us – 4 adult chaperones and 14 youth. The youth consisted of middle and high school students from various schools in the county.
What made you want to go?
I go on the mission trips for the fulfillment of watching the youth grow, of seeing them step out of their comfort zone to experience something new and realizing what they can achieve. To watch a young person use a power tool for the first time to build or construct something, then to hear them say, "I can do this when I get back home", is very rewarding. I believe I receive more from going on these trips than the youth do sometimes. Watching them interact with each other, you see how they have not developed their own opinions yet and are open to change.
What did you do while you were there?
Last year, the first time we stayed at this camp, we found an outdoor chapel area where we had some of our evening devotions. It is very rustic and peaceful with about twenty benches some of which had started to rot and fall over. There is a stream that wraps around this area underneath the trees with a bridge leading to the chapel area. It had been previously patched and was in need of repairs as well. We decided that rebuilding the benches and bridge would be a great project for us to do and something many others would be able to use for years to come.
I made a trip to the camp about a month prior and videoed the area, measured it, and talked with the camp administrator to come up with a list of materials that we would need.
The wood was delivered to the camp the day before our arrival. We had brought all the necessary tools for the project with us, so we hit the ground running. We removed and replaced most of the benches. And, we built a completely new bridge and walked it into place.
While we were there, the camp had paintball, rock climbing walls, and high ropes and we took part in those. We ziplined, went whitewater rafting, and walked trails outside of the camp.  One of our youth had a fear of heights and decided they were going to conquer their fear there. All of the students knew what we were going to do ahead of time, and I thought it was so interesting to hear and see how this one student overcame their fear.
What are your favorite memories?
Our devotions around the campfire at night was one of my favorite times of the day – listening to the youth talk about what they had done during the day and how we can relate to what God's plan for us is.
Getting up very early in the morning, breathing in cool mountain morning air, listening to the birds, watching the sun rise over the mountain tops as the fog clears, absorbing everything around me was incredible.
One of the best things was seeing the youth unplug from their devices. They played Frisbee golf, taught each other card games, or if one of them had something that would benefit the group, they would share it. This year, one of the youth shared how he uses martial arts and how you don't have to use it physically to take yourself out of situations that may arise.
What is your favorite part of going on mission trips?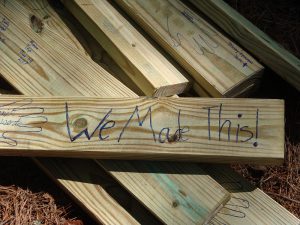 I've been going on mission trips with our church since 2007. I love being able to take time off and connect with tools other than a computer. To teach a student how to use a power tool for the first time. To watch a group of young adults build something and when they are done to be able to give it to the person, persons, or group they built it for. To listen to them while we are building and having them come up with a better way to do it. To have the youth suggest that we add things to our projects and let them lead their project. To see them interact with the people they are helping and between each other. The encouragement they give each other when someone might be afraid to do something. To watch our youth grow physically and spiritually over the years.
What would you tell anyone thinking of going on a mission trip?
I would say that going on a mission trip with youth is the most incredible thing that you can do. To see how they grow and overcome obstacles and getting to know them in a totally different setting from home is so uplifting. I know not all mission trips have devotions in the evenings, but it's great to listen to each one of them tell about their day and how things are provided for them.
For me, it is a time I can detach from my everyday life and reflect. Sometimes you have an impact on a student and you don't even know it. I had a student that was watching when I didn't know it. I had no idea she knew that I got up before everyone else to do my devotions. It keeps me young at heart and on my toes. And most of all don't forget to take air freshener; those cabins get pretty stinky after a week!