Plan your Holiday Social Media Campaign for Black Friday, Small Business Saturday, and Cyber Monday.
Kick-start Your Holiday Social Media Campaign on Facebook
A Facebook event is the perfect way to spread the word about your campaign.
First, create an event for your Black Friday sale, Cyber Monday sale and Small Business Saturday. The event feature in Facebook provides every tool you need to spread accurate information to your audience; time, location, and description of the promotion. Whether you are a historic bed and breakfast or trendy boutique you should create a catchy title.
Attract attention with a Facebook contest.
Get your Facebook page exposure by getting it more likes, views, and interaction with a Facebook contest. Although they don't necessarily enhance a social media campaign they do, in fact, reinforce your campaign efforts because they bring your company to the attention of the public.
Small businesses rarely participate in Facebook contests. However, contrary to popular belief, they are straightforward and easy to manage. Click here, to learn more about contests.
Follow-Up with Twitter
Hashtags
Promote your Facebook event on Twitter and decide which hashtags to use throughout your holiday social media campaign. It is important that hashtags stay the same during campaign tweets. Also, keep in mind, "tweets with one hashtag are 69% more likely to be retweeted than those with two" according to Taylor Webster, of Postcron.
Poll on Twitter
Polls are easy for followers to participate in and encourage engagement. But remember to gear your query towards your social media campaign. Example: "What will you buy your Uncle for Christmas? A) Our Rabbit foot, B) Our Custom Salt/Pepper shakers, C) Our Brand Steering wheel cover."
Mentions and Memes
Obviously, the mention of a fellow business doubles your audience because their followers see the tweet as well. But, don't overdo it and be sure it is a business you have a relationship with.
On the other hand, memes can't be overdone. In fact, you can take comfort in the fact your audience appreciates the entertainment – unless you are posting dozens of memes daily. Who makes up the majority of your clientele? Use that as a guideline for humor.



Post on Instagram
Use Stories to entice shoppers during your campaign
Since your campaign information is out on Facebook and Twitter, use stories to grab the attention of your audience because it will further focus your audiences' attention. Whether your campaign is for a Black Friday sale, or Small Business Saturday shopping, Stories offer a sneak peek at the venue and goodies they have to look forward to.
Add a Poll
We talked about the 3 new social media updates to know about a few weeks ago and the Instagram poll feature, added to the Stories section, is one of those new updates. Every call-to-action method is just as important as the next. Therefore each available method should be utilized to maximize your campaign success and even though the poll is limited to a two-answer query, it is necessary.
Photo quality is key to a successful social media campaign
Instagram is essential to your holiday social media campaign, but it will do more harm than good if you do not share quality photos. Followers get a visual of your product that leaves a lasting impression. Therefore, if a photo is blurry or includes unkeen elements; dirt, holes, garbage, or random items, it is better to not post at all. Audiences understand that quality photos are taken of quality products. Consequently, it is a good idea to use appealing backdrops and props, sharp photography and a clear message when posting.
P.S. Unlike Twitter, Instagram users love hashtags so add as many as you'd like. Remember to keep them on topic with your campaign. Include the campaign hashtags you use on Twitter.
In conclusion, it is important to stay consistent while planning your holiday social media campaign. Therefore it is important to post frequently and stick with your theme! But, if you are having difficulties planning a campaign yourself, give us a call.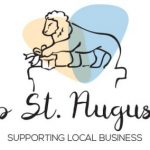 Shop local. Shop St. Augustine.
To support the shop local movement, we have created the Shop St. Augustine campaign. Whether you are a business owner or are shopping, eating, playing, or staying in St. Augustine, using #ShopStAugustine connects you with other businesses in town and helps show everyone that St. Augustine is open for business.

A slim and focused website beats a cluttered website every time. More is not always better. We have seen first-hand businesses make the mistake of including irrelevant information to their website. The website eventually loses its focus and ceases to be an effective marketing tool. You pay a lot of money in SEO and other marketing tools to get customers to your website – but there is little to no action from it. Remember you have a very brief window of opportunity to capture a customer. Your website's visitor should immediately understand what your company does and how that benefits them. Failure to do this will simply result in the visitor going to your competitor. Take an honest look at your website. It may be time for a little de-cluttering and re-focusing. We can help!
---
Mission Statement
Our mission at Old City Web Services is to navigate the world of web design, web development, and advertising for our clients so that they can focus on what they do best – running their business! Our business intentions go beyond the metrics of graphics, coding, and SEO. Located on Florida's First Coast, we run a personable home front service and consider our relationship with our clients as a partnership in their success. If you are looking to increase your business' visibility give us a call at (904) 829-2772 or contact us today.
---
Sharing and re-posting this blog is encouraged. Please credit Old City Web Services when sharing.
Disclaimer: Every effort is made to ensure the accuracy of information on Old City Web Services Blog.
Photo credits: Old City Web Services