There's no doubt that social media plays a big role in marketing of businesses of all sizes. Social media not only helps you reach those in your community but all around the world. It's a diverse tool which can have mass advantages if done properly.
For this blog, we thought we'd recognize some of the businesses within our community who are doing an amazing job at using social media to their advantage.
The Kookaburra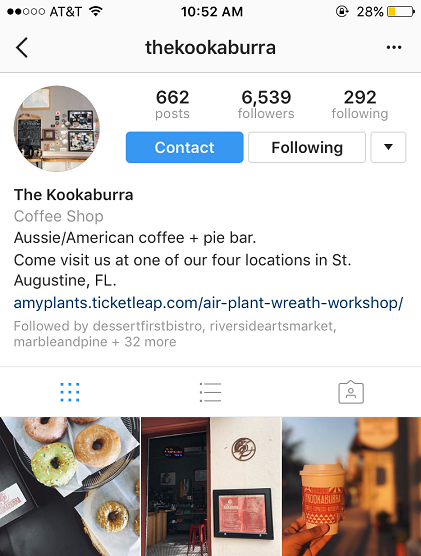 The Kookaburra, an Aussie-American espresso bar and pie shop, has been a St. Augustine staple since 2012. When you visit one of their now four locations, it's easy to tell that as a business they believe in creating an experience for their customers. They definitely have a knack for making everyone feel welcome, from first-time visitors to the regulars. Their business is thriving, and it's no wonder that they keep people coming back time and time again. But it's not just the impression they make in person that keeps them on the minds of their customers. They're also rock stars at the social media game.
Where you can find them: Instagram, Facebook, Twitter, Snapchat
What they're doing right:
They post quality photos daily. They promote their products in a way that is so enticing, you get the urge to hop on over and grab a hot latte or fresh donut.
They interact with their customers and make it a community experience.
They show behind-the-scenes pictures of the shops and introduce their staff.
Crave Food Truck
Crave Food Truck is a local food truck that has been dedicated to serving St. Augustinians the healthiest and freshest local ingredients since opening four years ago. You can often find locals at their beautiful outdoor downtown location or the beach location they share with The Kookaburra. Each day, they serve up fresh wraps, salads, smoothies, bowls, cookies, and much more. The mixture of healthy food and fun experience turns visitors into repeat customers.
Where you can find them: Facebook and Instagram
What they're doing right:
They share photos of their delicious, fresh food daily. They use social media to share specials, new meals, and food they want to feature that day.
They utilize Instagram stories to their advantage by giving their customers a constant behind-the-scenes glance at what really goes into keeping a food truck running. They also show the staff having a blast while serving the community.
Declaration & Co.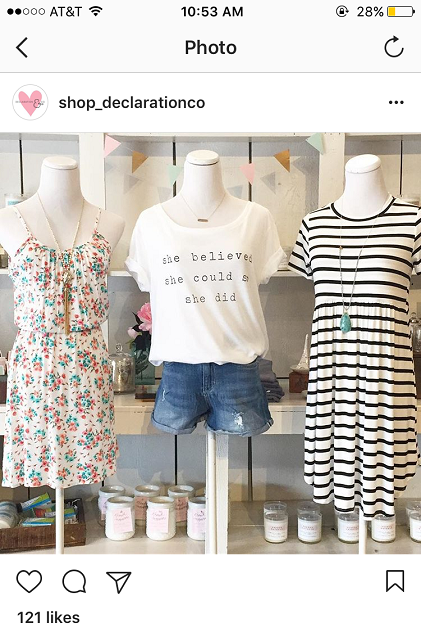 What started out in 2010 as a 700 sq. ft. shop selling gift items and wedding invitations has evolved into a 3500 sq. ft. space featuring the shop owner, Lara's, own brand. As you walk through the light and airy space known as The Marketplace, you'll see her designs on apparel, jewelry, cards, pins, candles, and much more. There's even a part of Declaration & Co. that acts as a unique candy shop. This is the perfect place to find the gift you've been looking for (for yourself or someone else).
Where you can find them: Facebook and Instagram
What they're doing right:
They utilize their account to showcase their own brand amongst other products they carry.
Their photos have a uniform look and theme. If you follow Declaration & Co.'s account, you start to recognize which pictures are theirs without having to look at their name. It's great to develop an identity on social media.
In between shop and merchandise photos, you'll find photos of the shop owner's family. This allows customers to get to know the people behind one of their favorite stores. This is a unique and useful way to promote small business and connect with the community.
What can we learn from these local businesses?
Social media takes effort. It's more than just setting up an account, posting here and there, and hoping people follow and interact with you.
These companies all post often and with intent.
They take the time to take quality photos.
They highlight their staff and behind-the-scenes moments.
They get personal and interact with the community.
Could your social media use an upgrade or makeover? We know social media can be time-consuming for any company. That's why we offer social media marketing services. Contact us today and we can create a marketing plan unique to your business.