Old City Web Services Welcomes Copywriter
Natalie McEl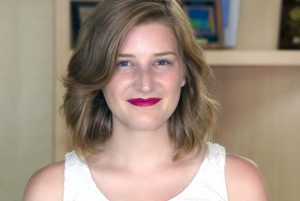 wee works in copywriting and marketing here at Old City Web Services. Natalie graduated with a bachelor's degree in journalism from Louisiana Tech University in 2013. Upon graduation, she moved to St. Augustine to work as a copy editor/designer where she strengthened her editing and writing skills. From there, Natalie worked in marketing and development at a retreat center in South Carolina where she learned the ins and outs of social media, continued to write, and learned how to market in a unique environment. While she enjoyed her time in South Carolina, her love for the Nation's Oldest City brought her back to the area. Natalie has a passion for St. Augustine and the surrounding areas that shows in her work.
Natalie joins us with a unique set of skills that make her the perfect addition to our team. Her attention to detail, ability to craft copy, journalistic conversational skills and knack for social media make her a valuable asset. Natalie writes content for clients' websites and blogs, blogs for Old City Web Services and OldCity.com, handles social media for OldCity.com, helps with marketing, and works on day-to-day projects.
We're excited to have a skilled writer join our team and are happy to offer her services to you. Is your website in need of an upgrade? Have you had it professionally designed but don't have the right words to make it stand out?
It's great to have a sharp looking website, but if there is no captivating content to grab someone's attention, then what good is your website really doing? In order to have an effective website, you need to effectively communicate what your business is about, why consumers should choose you, and how you stand out among competitors.
Reasons to Hire a Copywriter
A high-quality website needs high-quality text to build credibility and consumer trust.
A copywriter incorporates SEO into text so consumers get the most out of online searching.
You can rest assured that your copy will be the most effective it can be.
If you feel your content needs an upgrade, fill out the contact form on our website or give us a call at 904.829.2772 to discuss how we can help you with your content writing needs.