St. Augustine locals have little secret, can you guess what it is? That's right, it's Easy Season. Years ago, Easy Season didn't exist. But as the number of tourists who visit the City rises each year, many businesses are relieved at the thought of easy living. A time when visitors go home for a few months and locals get to enjoy the endeavors and nuances of the city they adore! Don't get us wrong, we love visitors and sharing our beautiful city with them. But, while visitors are on vacation the hotels, bed and breakfasts, attractions, boutiques, gift shops, museums, galleries, coffee shops, restaurants, bars, and other local services are hard at work making sure these visitors have the best vacation of their lives.
Now, you can choose to plan your staycation during Easy Season and take advantage of the quaint St. George Street and that school is back in session. In fact, if you're a St. Johns County resident you can even visit many of the area's best attractions free of charge. While this may be greatly needed after the hustle and bustle of the Summer months, we have a more productive idea.
We challenge you to take advantage of Easy Season in a different way. Prepare for St. Augustine's next busy season, the holidays – better known as Nights of Lights. To make your Easy Season productive, we've conducted a list of things to review before the holidays.
Hurricane Preparations
The good news is, the 2018 Atlantic Hurricane Season Prediction claims there to be only a 10% chance of above normal activity and 60% chance of a below-normal season. However, preparation is at the forefront of any good business' checklist. Don't worry, we've got you covered with our Hurricane Preparedness Guide.
Re-identify your Ideal Customer
This shouldn't come as a surprise. In fact, it's likely you know who your ideal customer is. But, do you think the ideal customers you interacted with in the Summer are the same ideal customers you'll interact with during Nights of Lights? It's possible, but just in case, take the few minutes it takes to re-identify your holiday season ideal customer.
Reassess Your Marketing Materials
Before you can advertise to your ideal customer, you must narrow down the marketing materials you'll need. Consider freshening up your print media. If you don't have any, you'll need to create a budget and purchase business cards, pamphlets, or flyers. Don't forget about your website! Freshen up its look with new content on the Home Page, new products, and be sure to ditch these seven site characteristics.
Advertise to Your Ideal Customer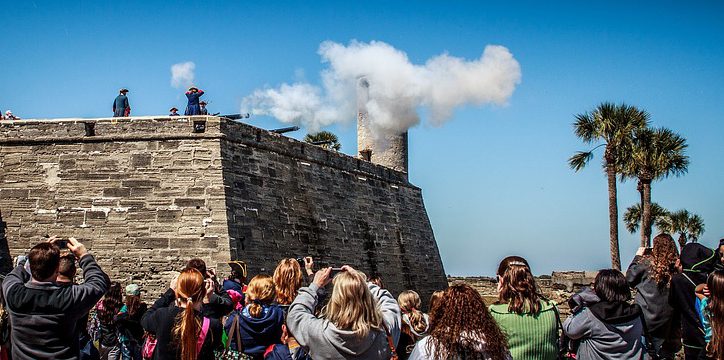 Now that you have your marketing materials squared away, start planning your advertising strategy. If they are living in the area, send them direct mail. If they are living out of state, advertise on a trustworthy St. Augustine travel website. If they are signed up to receive emails from you, plan an email campaign. Need more ideas? Check out this blog.
Prepare to Launch Deals and Sales
During the Nights of Lights and holiday season, many businesses in the area host sales, discounted services, or room packages to entice tourists to do business with them. Start planning the deals and sales you'll carry out during the holiday season. Tell your employees, friends, and family to spread the word and don't forget to push it out on social media! Additionally, consider when the best time to launch your big news is. We suggest Light Up! Night.
Holiday Hours, Extended Hours
Sure, maybe the locals know your bizarre holiday schedule. But, it's important that it's clear to visitors as well. Be sure to update your holiday hours or extended hours on each of your listings: Facebook, Google Business Listing, and especially your website. This way, there will be no confusion.
Did you know, according to a 2017 report from National Retail Foundation, more than half of consumers begin research in September and October or earlier? It is just as important to create a well-thought-out holiday season strategy during these months. Take the lull in business during Easy Season to get ahead.

Tips for Success – Plan Ahead
Aligned with this blog is the idea that the early bird gets the worm. From your advertising strategy to your marketing materials, it is never too early to start planning. In fact, most times you'll find the earlier you put things in action, the more success you have.
Not only does planning help you check things off your to-do list, it also allows room for change and creativity. For example, if you plan out your marketing materials now, you'll have extra time to distribute your print media and announce the launch of your new or updated site.
---
Mission Statement
Our mission at Old City Web Services is to navigate the world of web design, web development, and advertising for our clients so that they can focus on what they do best – running their business! Our business intentions go beyond the metrics of graphics, coding, and SEO. Located on Florida's First Coast, we run a personable home front service and consider our relationship with our clients as a partnership in their success. If you are looking to increase your business' visibility give us a call at (904) 829-2772 or contact us today.
Sharing and re-posting this blog is encouraged. Please credit Old City Web Services when sharing. Disclaimer: Every effort is made to ensure the accuracy of information on Old City Web Services Blog. Hurricane Season Outlook Graph: NOAA.