Can I advertise on OldCity.com on a budget?
Any budget, no matter how small, can afford to advertise on OldCity.com. In fact, advertising on a website tends to be less costly than other methods such as mail-delivered advertisements, billboards, or commercials. Advertising services on OldCity.com range from $25.00 to $600.00 per month.
What is an advertorial?
An advertorial is a method of advertising in blog form which is published on our City Blog Page; the blog's purpose is to promote your business. Each advertorial is a little different and varies in the topic, the number of words, and the number of photos. Advertorials are unique because they are permanently in our blog feed, they give your business a backlink to our high-ranking page (which is good for SEO), and we also promote them through our social media outlets. You can sign up for an advertorial here.
Check out the advertorials we created for Guy Harvey Resort, Coast Home Watch, and Fiesta Falls Miniature Golf:
Can I advertise with a video?
Yes, and in fact, we suggest you do! Each of our Super Expanded Listings can display a video, check out the one at the top of our Historic District Page of St. Francis Inn Bed and Breakfast. Video advertisements are twofold; they capture the attention of potential customers for longer and they provide unique insight into your business. If a photo is worth 1000 words, how many is a video worth?
How do I know that OldCity.com is the right place to advertise my business?
OldCity.com is a website portal for locals and travelers alike. Many people visit the site in search of information for their vacation or staycation; but, the site also receives a steady flow of locals and snowbirds searching for St. Augustine's best brokers, pharmacies, doctors, pest control services, etc. OldCity.com hosts a variety of advertisers whose businesses vary from bed and breakfasts to contractors to insurance companies.
In conclusion, most companies will find advertising on OldCity.com beneficial! Instead of asking yourself if OldCity.com is the right place to advertise your business, ask yourself where you should advertise on OldCity.com. If you're a business in the area who predominantly markets to locals, we suggest you advertise on our Area Business Page or as a button on our Calendar Page.
What is the best way to advertise on OldCity.com?
Check out our How to Advertise Page, contact us or find the best way to advertise on OldCity.com with this simple equation:
Your Budget + the Busiest Time of the Year for Your Business + the Best Spot on OldCity.com for Your Business + Your Ideal Customer.
Example: A contractor in St. Augustine targeting local home buyers, with a small budget, and a peak season of October through December, might consider advertising with a banner ad on our Real Estate Page and Area Businesses Page, from August to January.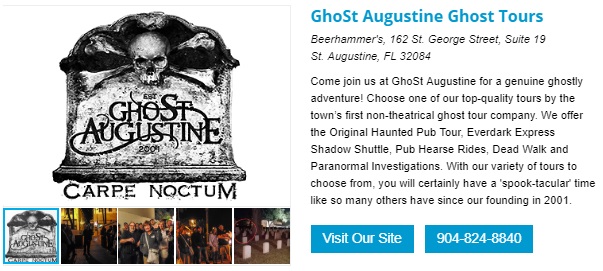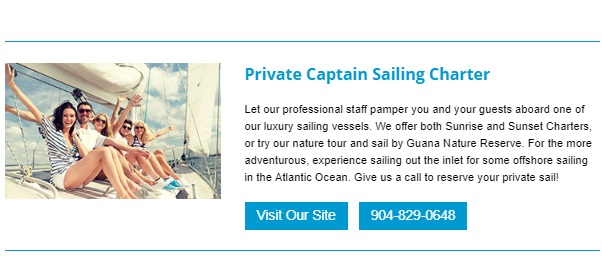 How do I advertise on OldCity.com?
Visit our How to Advertise Page. Or, call us at (904) 829-2772, email us at werespond@oldcity.com, or visit us Monday through Friday between 9:00 am and 5:00 pm.
How can I track my advertisements?
Each advertisement on OldCity.com is thoroughly tracked. At the end of each month, advertisers receive statistics including the number of impressions each ad received, the number of clicks, the click-through rate, and in some cases, the number of phone calls the business receives through the ad.
Impressions: the number of times your advertisement was seen by a user on OldCity.com
Clicks: the number of times your advertisement was clicked on.
CTR (Click through rate): the number of clicks your advertisement received divided by the number of impressions it received.
Phone Clicks: the number of times someone called your business through the advertisement.
*Not applicable to advertorials.

It is important to remember that there are major risks associated with using an open (or unsecured) WIFI source. Since open wireless networks don't require a password it leaves the door open for spammers, thieves, and hackers. If you have sensitive information on your computer or plan on transferring it while you're connected to an open WIFI source, it's possible that these spammers can gain access to your files!
If you host your email with us, you can securely check your email while using an open wireless network. Open mail.OldCity.com in a browser; under where you enter your login information, press the link that reads "Click here for Encrypted HTTPS"; enter your login information. Now, an encrypted HTTP is in place, guaranteeing the information you send or receive is secure.
---
Mission Statement
Our mission at Old City Web Services is to navigate the world of web design, web development, and advertising for our clients so that they can focus on what they do best – running their business! Our business intentions go beyond the metrics of graphics, coding, and SEO. Located on Florida's First Coast, we run a personable home front service and consider our relationship with our clients as a partnership in their success. If you are looking to increase your business' visibility give us a call at (904) 829-2772 or contact us today.
Sharing and re-posting this blog is encouraged. Please credit Old City Web Services when sharing.
Disclaimer: Every effort is made to ensure the accuracy of information on Old City Web Services Blog.
Photo credits: Old City Web Services